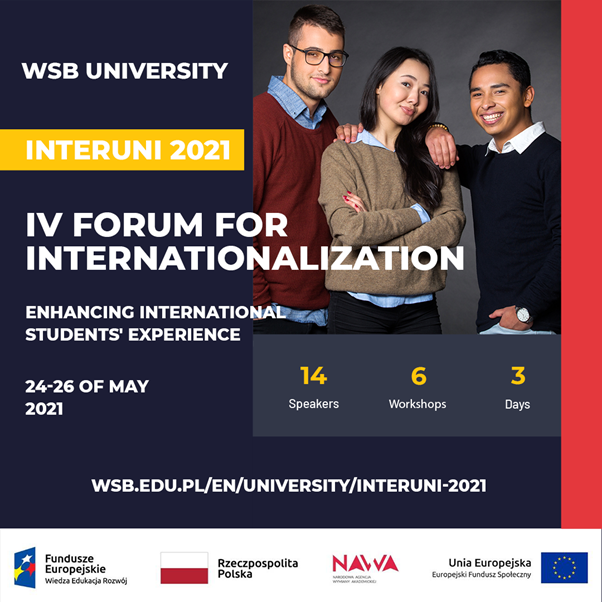 WSB University| Internationalisation Forum| Poland
Members of the partnership were invited to take part the WSB University Internationalisation Forum on 24 -26th May 2021 in Dąbrowa Górnicza. The event aimed to create a networking platform for the exchange of knowledge and best practices which facilitate the development of international university. The May 21 forum focused on increasing positive feedback of international students by touching aspects such as students tailored services, inclusive international mobility programs, building up of intercultural competences and students employability skills, integration of international students with local students and academic community. The event attracted around 80 attendees including representatives of WSB's international partner universities from EU and non-EU, Polish academic funding bodies, WSB academic staff and international students.
The presentation was entited Creating Opportuntities using EU funded projects and was delivered by Allan Lawrence and Yvonne Farrand Directors of Projects Beyond Borders along with David Taylor General Manager of the Businet Network. The brief for the presentation was as follows and offered a perfect opportunity to disseminate our project results to a wide academic audience:
Businet is a network of Higher Education Institutes founded in 1987. One of the aims of the network is to provide opportunities for member institutes, and both the staff and students of those institutes. Within the network there are curriculum and special interest working groups. Within those groups ideas are shared and discussed. These ideas sometimes lead to activities for staff or students, often, but not exclusively, in the form of intensive programmes. Sometimes the discussion led to project proposal and submissions for funding. In the presentation three projects will be discussed.
Three Erasmus projects were discussed including:
The Third Way (T3W): Development of a new curriculum that supports and promotes Social Enterprise as a destination of choice for European vocational and higher education graduates, (Rooted in the Entrepreneurship working group)
Entrepreneurship and Mental Well-being (Entre-MWB): Development of practical and reflective learning material that supports and promotes Mental Well-Being (MWB) amongst entrepreneurs of Europe, (Rooted in the Health and Social Matters and Entrepreneurship working group)
Skills Campus: The conversion of skills events into a digital form in response to the Covid-19 pandemic and beyond. Can the lessons learnt during the pandemic be used to further the Internationalisation@home agenda?